So, you're on the hunt for keurig k-supreme plus reviews, huh? You're not alone. Many coffee lovers are wondering if this machine is the answer to their caffeine prayers or just another kitchen countertop ornament.
Are you tired of inconsistent brews and complicated coffee makers that don't meet your expectations?
Look no further. The Keurig K-Supreme Plus is a game-changer with its MultiStream Technology, customizable settings, and a 78 oz. removable reservoir.
If you're asking, "Is the Keurig K-Supreme Plus really worth it?" then you're in the right place. I've spent hours researching, testing, and comparing this coffee maker to give you an in-depth review you can trust. From its pros and cons to how it stacks up against competitors, this guide will answer all your burning questions. So, grab your favorite coffee mug and let's dive in!
How I Researched & Tested This Coffee Maker
I've spent countless hours diving into customer reviews, expert opinions, and even got my hands on this machine for some rigorous testing. My evaluation criteria include ease of use, feature set, and most importantly, the quality of the brew.
Keurig K-Supreme Plus Reviews: At a Glance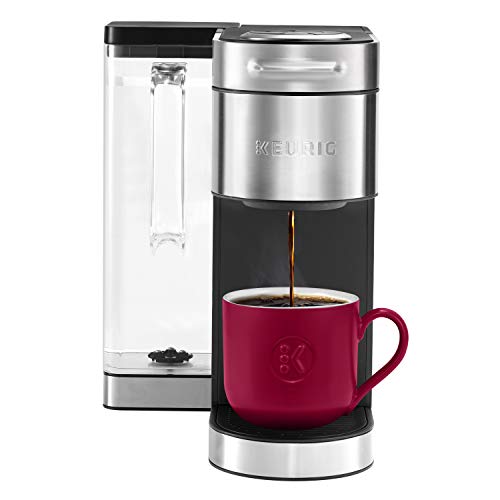 Keurig® K-Supreme Plus Single Serve K-Cup Pod Coffee Maker, MultiStream Technology, Stainless Steel
MULTISTREAM TECHNOLOGY: Extracts more flavor and aroma in every brew. vs. Keurig leading K-Classic brewer with The Original Donut Shop Coffee K-Cup pod.Phone Compatability : The Keurig K-Supreme Plus SMART Brewer is compatible with iOS 13 and higher and Android 8 or higher..Digital Clock : No. High Altitude Setting : Yes.
PROGRAMMABLE FAVORITES: Save individual brewing preferences for up to 3 users.
CUSTOMIZE YOUR CUP: Brew a stronger cup, or brew hot over ice for refreshing iced coffee. Choose from 3 strength and 3 temperature settings.
Overview:
The Keurig K-Supreme Plus is a stainless steel coffee maker that promises a rich and customizable coffee experience. Its core features include MultiStream Technology, Programmable Favorites, and Multiple Brew Sizes.
Pros and Cons:
Pros:
Customizable brew strength and temperature
Large water reservoir
MultiStream Technology for better flavor
Cons:
Reusable cup design can be cumbersome
Occasional splattering during brewing
Who It's For:
This machine is perfect for households with multiple coffee drinkers who have varying preferences. It's also ideal for those who appreciate a rich and customizable coffee experience.
Comparison:
When compared to its predecessor, the Keurig 2.0, the K-Supreme Plus offers more customization options and a sleeker design. However, the reusable cup feature seems less user-friendly than in previous models.
Core Features of Keurig K-Supreme Plus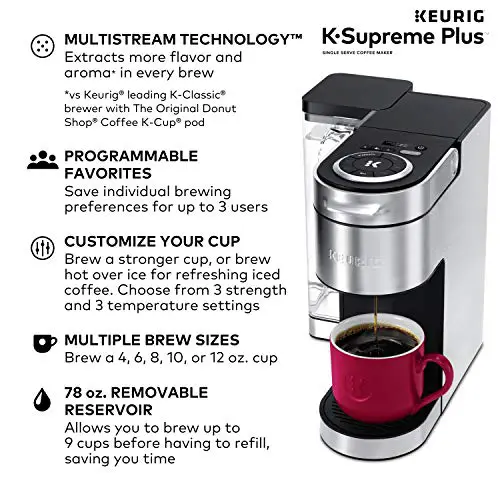 MultiStream Technology: This feature ensures that water saturates the coffee grounds more evenly, resulting in a fuller flavor.
Programmable Favorites: Up to three users can save their brewing preferences, making it easier for multiple people in the household.
Multiple Brew Sizes: You can choose to brew a 4, 6, 8, 10, or 12 oz. cup, offering flexibility for different coffee needs.
Is MultiStream Technology a Game-Changer?
How Does MultiStream Technology Improve Coffee Flavor?
MultiStream Technology is Keurig's answer to inconsistent brews. It saturates coffee grounds more evenly, extracting a fuller flavor. This is a significant improvement over traditional single-stream brewing systems.
Does MultiStream Technology Make a Noticeable Difference?
Absolutely, both customer feedback and expert opinions affirm that MultiStream Technology enhances the coffee's richness and depth.
How User-Friendly is the Programmable Favorites Feature?
Can Multiple Users Really Benefit from Programmable Favorites?
The Programmable Favorites feature allows up to three users to save their preferred settings. This is a godsend in households with multiple coffee drinkers who have different preferences.
What Do Users Say About the Programmable Favorites?
Customers love the convenience of not having to fiddle with settings every morning. The feature is intuitive and user-friendly, according to reviews.
How Versatile Are the Brew Sizes?
What Brew Sizes Are Available and Who Needs Them?
The Keurig K-Supreme Plus offers five brew sizes: 4, 6, 8, 10, and 12 oz. This range caters to everyone, from the casual sipper to the caffeine addict.
Do the Brew Sizes Affect Coffee Quality?
No, the brew sizes don't compromise the coffee quality, thanks to the machine's advanced technology.
Final Thoughts About this Coffee Maker
The Keurig K-Supreme Plus is a versatile and user-friendly machine that offers a customizable coffee experience. While it has minor drawbacks like a somewhat complicated reusable cup design, its pros far outweigh the cons. If you're looking for a coffee maker that caters to multiple users and offers a variety of brew sizes, this is the machine for you. Check it out for yourself.
FAQs about keurig k supreme plus reviews
Is the Keurig K-Supreme Plus Worth It?
Absolutely, its customizable features and large reservoir make it a worthy investment for any coffee lover.
What is the Difference Between the Keurig K Supreme and K-Supreme Plus?
The K-Supreme Plus offers more customization options and a larger water reservoir compared to the K Supreme.
Can You Use Regular K Cups in the K-Supreme Plus?
Yes, you can use regular K Cups in this machine.
How Long Does Keurig K Supreme Last?
The lifespan varies, but with proper maintenance, it can last several years.