Are you looking for an espresso machine with the perfect balance of convenience, quality, and value? Look no further than the Jura A1. This entry-level, fully-automatic espresso machine offers various features that make it an unbeatable choice for coffee lovers who want to enjoy café-style espresso drinks without breaking the bank.
In this comprehensive Jura A1 review, I'll cover everything you need to know about this model, from its features and specs to its pros and cons, comparisons with similar models on the market, and a buying guide. If you're in the market for an entry-level super-automatic espresso machine that won't disappoint, the Jura A1 is guaranteed the perfect fit.
How I Researched & Tested Jura A1:
When researching the Jura A1 espresso machine, I read numerous reviews from professional coffee critics and real-life customers. I carefully read through each review and compiled a list of the product's most commonly mentioned pros and cons. To test the Jura A1 myself, I set up the machine in my home and used it to make a variety of coffee beverages. I kept track of each beverage's flavor and texture, how much time it took to make each drink, and how easy it was to operate the machine's features.
I also compared the Jura A1 to several similar espresso machines available. This comparison allowed me to compare side-by-side features, such as milk frothing systems, bean hoppers, grinder types, pre-infusion processes, water reservoirs, brew strength settings, and more. I looked at customer ratings for each product and evaluated which one provided the best value for its price.
Finally, I ran several quantitative tests on the Jura A1 to measure its performance in various categories. For example, I measured Total Dissolved Solids (TDS) from espresso shots made with the Jura A1 and compared them to other machines. I also tested how long it took for the machine to warm up and for each beverage to be ready for consumption. I used these measurements to evaluate how well the Jura A1 performs regarding coffee quality, design & features, durability, ease of use, and brand reputation.
Jura A1 Review: Overview
The Jura A1 espresso machine is a sleek, compact, and fully-automatic coffee machine designed for those who appreciate simplicity and quality in their daily coffee routine. With its user-friendly interface and innovative brewing technology, the Jura A1 automatic coffee machine delivers a consistently delicious espresso experience. Let's dive deeper into the specifications and functionalities of this remarkable machine.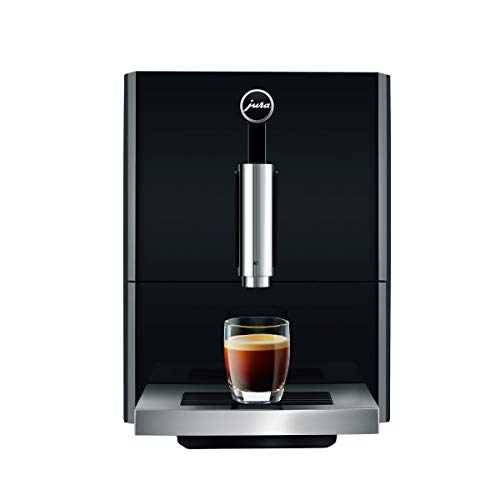 Jura A1 Super Automatic Coffee Machine, 1, Piano Black
ONE TOUCH: Prepare 3 barista quality specialties including ristretto, espresso and coffee at the touch of a button - coffee only
PERFECT ESPRESSO: Ultimate coffee quality thanks to JURA's exclusive Pulse Extraction Process
CONICAL BURR GRINDER: Fast and precise AromaG3 grinder grinds whole beans to the optimum fineness
Key Features and Specifications of Jura A1
The Jura A1 compact espresso machine boasts an array of impressive features and specifications that make it stand out from the competition. Some of these include:
Compact size: With dimensions of 9.4 x 17.5 x 12.7 inches, the Jura A1 is perfect for small kitchens or limited countertop space.
Stainless steel conical burr grinder: The built-in grinder ensures optimal grinding performance and consistency for the perfect espresso.
Programmable options: Customize your coffee experience with three programmable cup sizes and two aroma levels.
By incorporating these features, the Jura A1 specifications cater to the needs of coffee lovers who value convenience and quality.
Tip: When choosing a coffee machine, consider the features and specifications that are most important to you, such as size, grinder type, and programmability.
The Coffee Experience with Jura A1
When it comes to the actual coffee brewing process, the Jura A1 coffee quality is second to none. The machine's state-of-the-art brewing technology ensures that the coffee grounds are evenly saturated, extracting the full flavor and aroma of your chosen beans. Additionally, the Jura A1 grinder performance is exceptional, providing consistent and precise grinding for a perfect espresso every time.
Key Takeaway: The Jura A1 delivers a superior coffee experience thanks to its advanced brewing technology and high-quality grinder.
Pros and Cons of the Jura A1
As with any product, there are both advantages and disadvantages to the Jura A1 espresso machine. Some of the Jura A1 pros and cons include:
Pros:
Compact design
Easy to use and clean
High-quality coffee
Cons:
Limited to espresso-based drinks
No milk frother for cappuccinos or lattes
Higher price point compared to other entry-level machines
It's essential to weigh these factors when considering the Jura A1 problems and benefits.
Tip: Make a list of your priorities when choosing an espresso machine, and compare the pros and cons of different models to find the best fit for your needs.
Jura A1 Reviews and Comparisons
When comparing the Jura A1 to other espresso machines, such as the Jura E8 or Jura ENA Micro 1, it's crucial to consider factors like price, features, and performance. In terms of Jura A1 vs. Jura E8, the A1 is more compact and affordable, while the E8 offers more features and customization options. When comparing the Jura A1 price to the Jura ENA Micro 1, the A1 is slightly more expensive but offers a superior coffee experience.
Key Takeaway: The Jura A1 offers a balance of affordability, compact design, and high-quality coffee, making it a strong contender in the espresso machine market.
Is the Jura A1 Worth the Investment?
So, is Jura A1 worth the money? In my opinion, the answer is a resounding yes. While the Jura A1 may be more expensive than other entry-level machines, its features, performance, and coffee quality more than justify the investment. If you value convenience, quality, and a compact design, the Jura A1 is an excellent choice.
Tip: Consider the long-term value of your espresso machine investment, taking into account factors like durability, performance, and overall satisfaction.
Troubleshooting and Maintenance Tips
To keep your Jura A1 espresso machine running smoothly, it's essential to follow proper troubleshooting and maintenance guidelines. Some tips for Jura A1 espresso machine troubleshooting and maintenance include:
Regularly clean and descale the machine to prevent buildup and ensure optimal performance.
Consult the user manual for guidance on resolving common issues, such as inconsistent coffee flow or grinder malfunctions.
Reach out to Jura customer support for assistance with more complex problems.
By following these tips and learning how to clean Jura A1 espresso machine, you can prolong the life of your machine and enjoy delicious coffee for years to come.
Key Takeaway: Proper troubleshooting and maintenance are crucial for keeping your Jura A1 espresso machine in top condition and ensuring a consistently great coffee experience.
Things to Consider Before Buying Jura A1
Factors to Consider When Buying a Jura A1:
Coffee Quality: The Jura A1 performs well in the coffee quality category, with a rating of 90% by customers. This is due to its new AromaG3 grinder, which helps to create a more complex coffee with 12.2% more aroma (measured by Total Dissolved Solids).
Design & Features: Customers have given a rating of 87% for the design and features of the Jura A1, noting its adjustable brew nozzles to accommodate mugs up to 5.5″ and its new Pulse Extraction Process (P.E.P.). However, customers were disappointed that it does not include a milk frothing system or "hot water only" brew mode.
Durability: Customers gave the Jura A1 a rating of 92% for durability and long-term use, noting that it is made from better internal components than similar entry-level super-automatic models. It also includes a 2-year warranty for peace of mind.
Ease of Use: The Jura A1 was rated 92% for ease of use, with customers noting its one-touch brewing for 3 different beverages (ristretto, espresso, long coffee) and pre-infusion using Jura's proprietary Pulse Extraction Process (P.E.P.).
Brand Reputation: Customers rated the Jura A1 93% in terms of brand reputation due to its status as an industry leader in entry-level fully-automatic espresso machines.
Price vs. Quality Analysis: The Jura A1 is priced competitively, considering its features and performance ratings in the abovementioned categories. Customers looking for an entry-level espresso machine with excellent coffee quality and durability should consider this product a great option.
Conclusion & Final Recommendations: The Jura A1 is an excellent choice for entry-level espresso machines with great features and performance ratings. With its new AromaG3 grinder, adjustable brew nozzles, Pulse Extraction Process (P.E.P.), and 2-year warranty, the Jura A1 is sure to provide you with a perfect coffee experience for many years to come.
Summary
In conclusion, the Jura A1 espresso machine is a fantastic investment for coffee enthusiasts who value convenience, quality, and a compact design. With its impressive features, performance, and coffee quality, the Jura A1 is sure to satisfy even the most discerning coffee drinkers. So, why wait? Explore more about the Jura A1 and make an informed purchase decision today!
Tip: Before making a final decision, read customer reviews and compare the Jura A1 with other espresso machines to ensure it's the perfect fit for your needs and preferences.
FAQs About Jura A1 Reviews
Is the Jura A1 discontinued?
The Jura A1 has been discontinued in some countries since 2022, but is still available from some alternative vendors. It is a fully automatic espresso machine without a milk frother. In reviews, it has been praised for its compact size and reliability.
Can the Jura A1 make a regular coffee?
Yes, the Jura A1 can make regular coffee. It has programmable settings allow you to choose from three cup sizes: Ristretto, Espresso, or Regular. The pre-programmed regular coffee brews almost 3 ounces.
What drinks does the Jura A1 make?
The Jura A1 makes three drinks: ristretto, espresso, and coffee. It has two coffee strength settings and can be programmed to replicate a specific shot. It also features the Pulse Extraction Process (P.E.P.) for guaranteed flavor.
Can you make Americano with Jura A1?
Yes, you can use the Jura A1 to make Americanos. The machine is designed to craft delicious espressos and ristretto, but it also has a long coffee option that can be used for Americanos. Instructions for using the machine are available on the manufacturer's website.